CAGR Insights is a weekly newsletter full of insights from around the world of web.
| | | | |
| --- | --- | --- | --- |
| Index | 7-Jul-23 | 30-Jun-23 | Change |
| Nifty 50 | 19,332 | 19,189 | 0.74% |
| Nifty 500 | 16,565 | 16,430 | 0.82% |
| Nifty Midcap 50 | 10,170 | 10,127 | 0.43% |
| Nifty Smallcap 100 | 11,119 | 10,837 | 2.60% |
Chart Ki Baat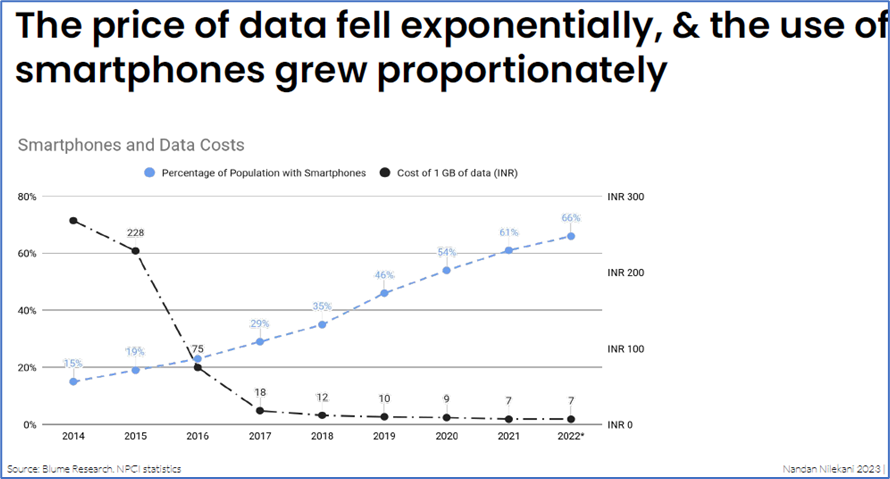 Bazaar Ki Baat
In the 9th edition of "Bazaar ki Baat", we discuss the following topics.
Monthly performance of market – FPI deluge
Sector performance – Opportunities to generate alpha
How to invest when Markets are at all-time highs?
Term Insurance – How to calculate your ideal cover?
In case you have any comments or suggestions, please let us know. Watch here .
Here's the list of curated readings for you this week:
Personal Finance
Women and their relationship with Money – Episode 3 – Shruti spoke to Shrutkirti Vashist about how she thinks about her money. There were indeed some very good lessons to draw out of this conversation. Watch here
Menace of Fininfluencers- How self-proclaimed stock market gurus exploit regulator Sebi's limitations — and loopholes — to attract gullible investors. Read here.
RBI seeks to give customers choice of card network- The Reserve Bank Wednesday asked banks and non-bank financial company (NBFCs) to issue credit, debit and prepaid cards on multiple networks to give customers the freedom to choose. Read here.
NRI Knowledge Series – How to file your taxes in India as an NRI? – One of the frequently asked queries by NRI clients and friends. Watch here.
Investing
Globally, Smaller Firms Have Underperformed The Larger Ones, Will The Tide Turn? –Small-cap and emergingmarket equities are now trading at better valuations than large-caps.Read here
Recoveries from written-off loans will keep contributing significantly to public sector banks' profitability – The contribution of recoveries from written – off loan accounts could remain significant for PSBs, given their sizeable written-off pool of loans of Rs.  7.5 trillion as of March 2023.Read here
FMCG sector to witness 7-9% rise in revenue this fiscal – "Revenue growth would vary across product segments and firms, but will largely be volume-driven. While the food and beverages (~50% of the FMCG sector revenue) is expected to grow 9-10% this fiscal, home care (~25% of sector revenue) should slow to 6-7% after price cuts. Personal care (~25% of sector revenue) will see continued traction growing at 7-8%, owing to revival in rural demand and steady urban demand. Read here.
India Drugmakers' Margins Under Threat – The government's Janaushadhi scheme—which provides generic medicines at steep discounts to branded generics to make them affordable—has gained strong traction with a 4.2% volume share in the Indian pharma market. Read here
Economy
India's Digital Transformation – Nandan Nilekani – Must watch– India is innovating a technology-led model for growth that is collaborative, equitable, and democratises opportunity at population scale. This talk will explain the genesis and history of this transformation and the interoperable building blocks that made it possible. Watch here.
India an attractive destination for investment – Over 70% of the Japanese companies surveyed have the intention to expand business in India over the next 1-2 years. Read here.
Kharif sowing has been uneven in 2023 so far; adequate rainfall in July crucial for pick up in sowing across the country– With nearly ~50% of kharif sowing taking place in the month of July, adequate rainfall in the ongoing month across all region s will be critical to accelerate the pace of sowing over majority of the country. Read here.
A Merger That Will Leave India's Banks Gasping – The newly bulked-up HDFC Bank will go after as much as 20% of the banking system's incremental deposits over the next three to four years. This could be highly destabilizing, at a time when the overall industry is gasping for liquidity. Read here.
Modi adviser says India will push back on West monpoly over ESG aims – In a hard hitting interview, PM economic advisor hits out at ESG norms and credit rating agencies. Watch here.
****
Check out CAGRwealth smallcase portfolios here.
****
That's it from our side. Have a great weekend ahead!
If you have any feedback that you would like to share, simply reply to this email.
The content of this newsletter is not an offer to sell or the solicitation of an offer to buy any security in any jurisdiction. The content is distributed for informational purposes only and should not be construed as investment advice or a recommendation to sell or buy any security or other investment or undertake any investment strategy. There are no warranties, expressed or implied, as to the accuracy, completeness, or results obtained from any information outlined in this newsletter unless mentioned explicitly. The writer may have positions in and may, from time to time, make purchases or sales of the securities or other investments discussed or evaluated in this newsletter.