CAGR Insights is a weekly newsletter full of insights from around the world of web.
| | | | |
| --- | --- | --- | --- |
| Index | 29-Sep-23 | 22-Sep-23 | Change |
| Nifty 50 | 19,638 | 19,674 | -0.18% |
| Nifty 500 | 17,293 | 17,261 | 0.18% |
| Nifty Midcap 50 | 11,612 | 11,495 | 1.02% |
| Nifty Smallcap 100 | 12,749 | 12,476 | 2.18% |
Gyaan Ki Baat
Volatility Index (VIX) – This is a real-time market index that represents the market's expectations as to volatility over the next 30 days. When markets rise or fall dramatically, the VIX rises during this period and falls when the market is less volatile. A rising VIX does not indicate where the market will go. Investors often get confused about the VIX and the market index, the market index provides the direction of the market while the VIX measures volatility in the market.
For example, if the Indian VIX is in the 20s, the Nifty could move up or down 20% from its current level over the next 12 months. This means that if the Nifty is currently at 17,500 and the Indian VIX is at 20, the Nifty could fall as low as 14,000 or as high as 21,000 in the next 12 months.
Chart Ki Baat
Courtesy: PPFAS financial Opportunities forum presentation by Rukun Tarachandani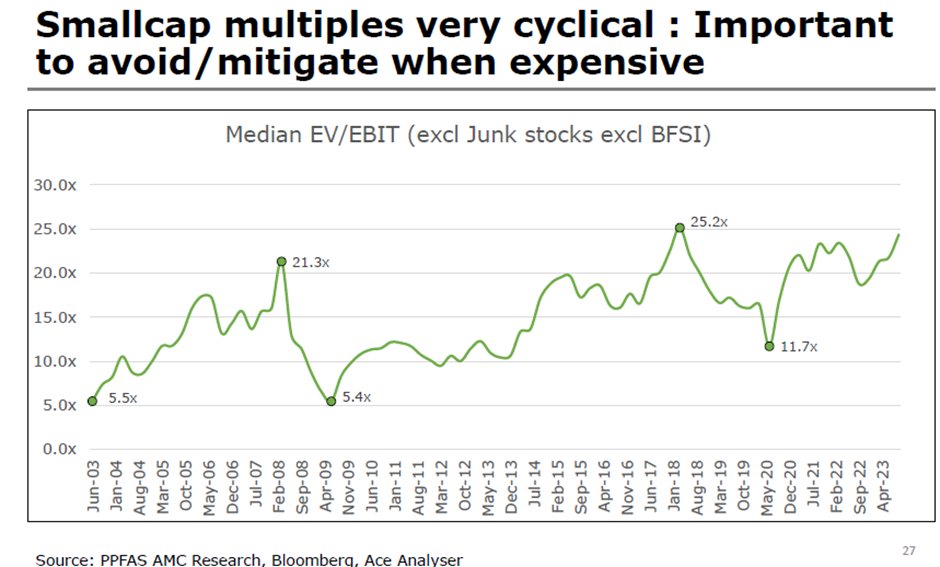 Here's the list of curated readings for you this week:
Personal Finance
Economy
****
Check out CAGRwealth smallcase portfolios here.
****
That's it from our side. Have a great weekend ahead!
If you have any feedback that you would like to share, simply reply to this email.
The content of this newsletter is not an offer to sell or the solicitation of an offer to buy any security in any jurisdiction. The content is distributed for informational purposes only and should not be construed as investment advice or a recommendation to sell or buy any security or other investment or undertake any investment strategy. There are no warranties, expressed or implied, as to the accuracy, completeness, or results obtained from any information outlined in this newsletter unless mentioned explicitly. The writer may have positions in and may, from time to time, make purchases or sales of the securities or other investments discussed or evaluated in this newsletter.